Version 1.5 of Screen Snapp for BlackBerry 10 has been released at BlackBerry World.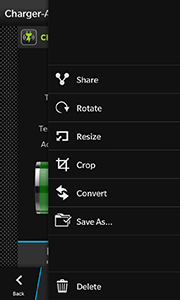 Here's what's new in v1.5:
Enabled screen capture of the lock screen.
Added a settings menu for customizations.
Capture screenshots in different image formats. Supports PNG, JPEG, TIFF, BMP.
Convert between image formats after the screenshot has been captured.
Option to have the app minimized automatically when started.
Allow storage directory for screen shots to be changed to a different location.
Simplified edit saves and added a "Save As…" option.
Improved icons, instructions and background.
Other minor bug fixes and improvements.