Call Blockr™ for BlackBerry 10 has been released on BlackBerry World. Call Blockr is a mobile call blocker app that blocks unwanted phone calls.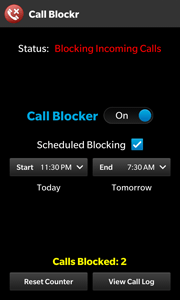 Version 1.0 features:
Blocks all incoming calls with the simple touch of a button.
Schedule when to block calls and when to allow them, then let Call Blockr automatically do the rest.
The active frame quickly shows you with a glance the current blocking status and the number of calls blocked.
A native app, designed to be fast & efficient so you can leave it running without it being a burden to your battery or phone.