Call Recordr™ is a mobile call recording app that can automatically record your phone calls.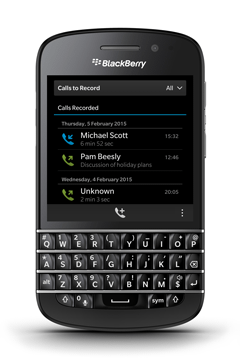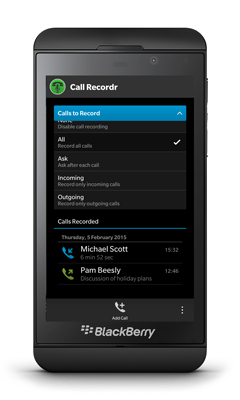 Features:
Choose which type of calls to record.
Recorded calls listed and organised by date.
Instant preview notifications for calls recorded.
Playback call audio from invoked hub notification.
Automatically stores recorded phone call number and contact name, if known.
Record calls in a choice of audio formats.
Option to play an audible beep while recording, in accordance with some country/regional laws.
Playback, and share your call recordings.
Control audio playback with the hardware media keys.
Add contact details and notes to recorded calls.
Easily call or text back the phone numbers of your recorded calls.
Backup and restore your data.
Import call recordings from other sources.
Customize features through the Settings menu.
Permissions requested:
Device Identifying Information – used to identify the device model.
Phone – required to identify incoming and outgoing calls.
Microphone – required to record the phone calls.
Shared Files – required to save recordings to file.
Phone Call Details – used to identify phone numbers of incoming calls.
Contacts (optional) – to add contacts details to a recorded call.
Run in Background – required to allow the app to continue running when closed.
Please Note: If you experience audio not being recorded clearly, then you may need to increase the volume and/or use speaker mode during calls.
DISCLAIMER: Recordings made through this app may be subject to laws and regulations in your region or country. By using this app, you agree to fully comply with all such laws and regulations.